Some people find it hard to control their worries and feelings of anxiety become a part of everyday life. The feelings can creep up on you and sometimes you don't even know why. You might not recognise that anxiety is the reason you're feeling or acting differently.
Our team of qualified professionals can help you make sense of what you're feeling and work with you to improve your mental health. If you just need a listening ear or you're experiencing ongoing symptoms of anxiety which are difficult to manage or out of proportion to your situation and it's affecting your life, get in touch.
It might feel hard reaching out for support when you're feeling anxious. Just being heard, understood, and having an outside perspective can be the first step to feeling better.
how we can support you
talking therapies
Talking therapies give you a safe place to talk to a professional who won't judge you. They can work with you to identify the causes of your anxiety to help you address the problems you're facing, so that you can participate more fully in life. If you're in serious distress, our qualified team can offer structured, solution-focused support to tackle the root cause.
talking therapy can help you:
deal with difficult life events
process and resolve emotions
cope with a crisis
work through conflict
improve low self-esteem.
If you're living in the UK, our clinical experts can also support with more complex concerns as well as providing holistic mental health assessments.
We provide talking therapies over the phone or by video call. Our emotional support is delivered through a variety of pathways including guided self-help, counselling, CBT, and a full range of psychological therapies delivered by clinical and counselling psychologists. Our professionals will talk to you about the difficulties you're facing to offer treatment matched to your individual needs.
When you first get in contact with us, a specialist support officer will listen to your situation and make a service recommendation. There's only a short wait of around two weeks before you talk to your own psychologist, but your dedicated support officer will be available during that time and after to provide support and updates.
All our services are accessed in the strictest confidence, we won't tell anyone, including the ICAEW or your employer.

specialist counselling
We have a partnership with Relate which offer specialist counselling services by video call in the UK. After you've spoken to us, with your agreement, we'll pass on your information to Relate. They'll contact you within a few days to set up your first appointment where you'll complete a short assessment to make sure that counselling is suitable. If it's not, then we'll recommend other services that are more appropriate. You'll have up to five sessions. There is no limit to the number of times you can access our services, although we advise taking a break after the initial five sessions to reflect on what you've discussed.
If you're based outside the UK, we'll work with you to find the best support for your needs.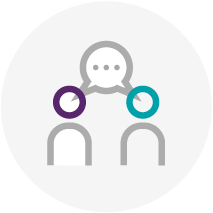 need help now?
If you feel like you might seriously harm yourself or attempt suicide, you need urgent medical help. Call 999 for an ambulance, go straight to A&E if you can, or call your local crisis team if you have their number. If you're in the UK, the NHS also provide urgent local mental health helplines. If you can't do this by yourself, ask someone to help you.
Mental health emergencies are serious. You're not wasting anyone's time.
Our mental health is tied to many other aspects of life, so depending on your own situation you might like to visit other topic areas like financial health which includes how to deal with debt, career advice, looking after your physical health or our legal advice.